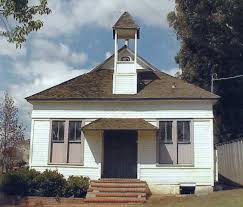 Records show that Bonsall was originally known as "Mt. Fairview" and later as "Osgood", after the chief engineer who was in charge of the Southern California Railroad Survey Crew in the 1870's. A petition for a post office in 1889 recommended the names of "Reed", "Favorite", or "Bonsall". Post office headquarters in Washington DC chose the latter, the name of a retired Methodist minister, James Bonsall, who developed a fruit tree nursery in the area in 1889.
In the late 1800's, the hamlet of Bonsall offered services of a post office, blacksmith shop complete with tethering rock to tether the horses while shopping, a general store, hotel and local school. The fertile valley became the center of a small dairy industry. The post office was a tiny five-by-five foot space inside the general store in the south (east) bank of the San Luis Rey River where the Bonsall Community Church now Stands.
The first Bonsall School the "Little Old Bonsall Schoolhouse" as it is known affectionately to area residences opened its doors in 1895 and until 1920 one teacher taught all grades. Today, the school house sits on the Bonsall Elementary School property and is being renovated by the Bonsall Education Foundation. The Bonsall School District was founded in 1919.
Access from Oceanside to Bonsall was a continuing problem in the early 1900's. The bridge over the San Luis Rey River was washed out in 1916. A one-lane wooded bridge with a turnout in the center was constructed in its place. In 1926, the "Bonsall Bridge" was inaugurated and was used until the "New" Bonsall Bridge was constructed in late 1990 to accommodate the increasing traffic to Oceanside.
The original Bonsall Community Church was a 200-300 square foot structure built to meet the needs of the field workers. Today, this building is the Church office. The present church was built in the late 1940's with some additions in the following years. The Church has been non-denominational during its 100 years of existence