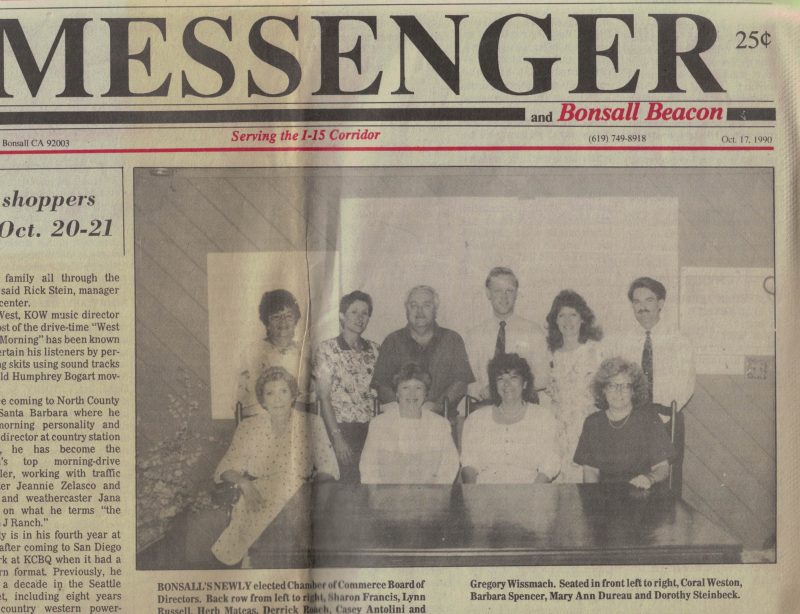 Chamber History
THE HISTORY OF THE BONSALL CHAMBER OF COMMERCE
(Information was taken from old newspaper articles and files from the Chamber)
The Bonsall Chamber of Commerce was chartered on December 10, 1990.
The first meeting was held for the "Formation of a Bonsall area Chamber of Commerce on Jun 22, 1990. Present at this inaugural meeting were 25 representatives from the greater Bonsall area. Two committees were formed to #1 – gather information for chartering and #2 – generate a list of possible officers and directors for the new Chamber.

On July 9, 1990 the 2nd "formation" meeting was held with 16 representatives and a temporary leadership committee was selected. On July 27, 1990 the 3rd "formation" meeting was held with 28 representatives. Office space for the new Chamber was offered by the Messenger Newspaper that was being completed in River Village. 20 businesses and individuals voted to contribute $100 each towards the startup costs for the new organization. They were: Rancho vista National Bank, Actat Real Estate, Bonsall Health Center, Real Estate market, Gregory's Market, Sunshine Realty, Mashburn Sanitation, Herb Mateas, Sandra Scott, John Koyta, Real Estate Information Center, The Messenger newspaper, Farmers Insurance Agency – Jim Christopher, Ray White Cement, River Village, Home Loan Association, ZDI Development, Marge & Ray Kelly, First Interstate Bank and Sharon & Muzzy Francis.

On August 10, 1990 it was unanimously approved that Charter Member for the new Chamber would be limited to 50 or by September 1, 1990, whichever comes first. On August 31, 1990 Herb Mateas stated that approximately 34 individuals or firms paid $100 each to become Charter Members. In addition to the above mentions, additional Charter members were: Tom & Sharon Acee, Arnold Development, King Chiropractic, Fallbrook Hospital, Mail Boxes Etc., San Luis Rey Downs, River Village Travel, Transamerica Insurance, Transamerica Insurance, Waste Management, Pacific Southwest Association.  There is no information on Charter Members #31 – #38.

On October 5, 1990 the first board members were elected and on October 19, 1990 the officers were appointed; President – Herbert Mateas, Actat Realty, Vice President – Derrick Roach, Gregory's Market, Secretary – Coral Weston, Real Estate Information Center, Treasurer – Gregory Wissmach, First Interstate Bank. And the Directors were Casey Antolini, Rancho Vista National Bank – Bonsall, Barbara Spencer – Sunshine Properties, Lynn Russell – Mashbury Sanitation, mary Ann Dureau – Home Loan Association, Dorothy Osborn Steinbeck – The Messenger Newspaper, Sharon Francis – L.D.F. Stables, Ind. and Scott Anderson – San Luis Rey Downs. December 10, 1990 The Bonsall Chamber of Commerce was charted by the State of California, and later that month Chris Vander Lans accepted his $100 prize for submitting the winning logo  to be used.

Past Presidents by year; 12/90-12/91 – Herbert J. Mateas, 1/91-2/92 – Gregory Wissmach, 3/92-12/92 – Casey Antolini, 1/93-12/93 – Sharon Francis, 1/94-12/95 – Coral Weston, 1/96-12/96 – Richard Gandolfo, 12/97-12/98 – Dwight Thompson, 1/99-12/2001 – Mary Jane Poulter, 1/02-12/03 – Marilyn Schweibold, 1/04-12/04 – Jill Marie Thornburg, 1/05-12/08 – Leigh Ann Howard, 1/09-12/09 – Susie Birchall, 1/10-12/10 – Seth Essenfeld, 1/11-12/11 – Stan Neiman, 1/12/12/12 – Ron Coulombe, 1/13-12/13 – Gail Martin, 1/14-12/14 – Vaughn Bud Coale, 1/15-12/15 – Roxanne Green, 1/16-Present – Vaughn Bud Coale, 2022 – 2023 – Nikki Birchall, 2023 – 2024 – Angelique McInerney.