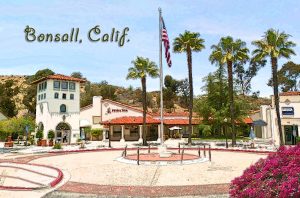 Welcome!
Beautiful Bonsall, CA is located in the rolling hills of northern San Diego County. Home to the famous San Luis Rey Downs Training Center for thoroughbred racehorses and other equestrian facilities. Agriculture, horticulture and vineyards thrive in this Mediterranean-like climate. The people of Bonsall enjoy living the country life while having quick access to everything the cities around it provide. Come visit Bonsall to see its beauty and enjoy the peacefulness! Be sure to stop by our Bonsall Chamber of Commerce office located in River Village for a wealth of information on the area! 
Member Spotlights
  Bonsall Woman's Club
The Bonsall Woman's Club (BWC) is a large club consisting of members from North San Diego and South Riverside counties.  The BWC is organized exclusively for charitable purposes within the guidelines of Section 501 (c)(3) of the Internal Revenue Code 1954.  The BWC objectives are to engage in activities for the betterment of the club, community, and country as well as promote the individual interests of the club's members.  Included objectives are to promote civic interest through education and discussion and to encourage and help our youth, elderly, and needy through financial aid and personal service.  The funds raised have been from Christmas teas, fashion shows, western barbecues, and others.  The club meets September through June at The Golf Club of California.  Club meetings are held the first Thursday of the month.  The doors open at 9:00 a.m. with coffee and tea available.  The meeting starts at 10:00 a.m. followed by an informative/entertaining program.  A nice lunch follows.  For more information, visit bonsallwomansclub.org.