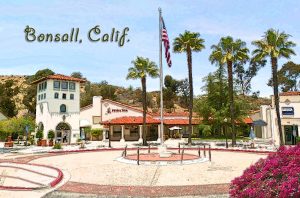 Welcome!
Beautiful Bonsall, CA is located in the rolling hills of northern San Diego County. Home to the famous San Luis Rey Downs Training Center for thoroughbred racehorses and other equestrian facilities. Agriculture, horticulture and vineyards thrive in this Mediterranean-like climate. The people of Bonsall enjoy living the country life while having quick access to everything the cities around it provide. Come visit Bonsall to see its beauty and enjoy the peacefulness! Be sure to stop by our Bonsall Chamber of Commerce office located in River Village for a wealth of information on the area! 
The Chamber office will serve as an official Mail Ballot Drop-Off location for the 2020 Presidential General Election from Tuesday October 6th through Tuesday November 3rd.
Your signed, sealed and dated mail ballot envelope can be dropped off during these hours: Tuesday's 9-1, Thursday's 9-1 and Fridays 10-2. On Election Day, Tuesday November 3, hours for dropping off mail ballots will be 7 a.m. to 8 p.m.
Questions regarding the Mail Ballot Drop-Off program should be directed to the County of San Diego Registrar of Voters (858) 565-5800.